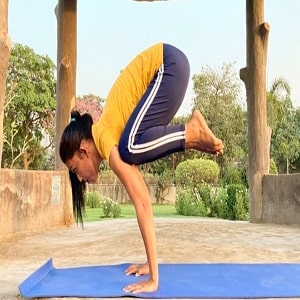 Neesha has been a yoga instructor with spiritual yoga ashram since 4 years. She has done yoga teacher training course and has complete post graduate diploma in yoga.
Adept in creating powerful teaching plans that aim to support and benefit each and every student.
Bringing forth an adoration and respect for the art of yoga, and all that it encompasses.
 Experienced Yoga instructor committed to make a difference in the educational field by applying wide
knowledge of Yogic philosophy & Psychology.
 Serve people to realize the importance of yoga to maintain a sound body and a sound mind.
 Use my in-depth knowledge and understanding of yoga in the field of yoga practice.
 Use yoga as a tool for relaxation and happiness for people in their daily life.
 Taught thoughtful and carefully planned classes with the goal of having students feel refreshed and
renewed.
 Challenged students while remaining sensitive to their individual needs and goals at all times.
 Worked one on one with students to nurture their motivation and enhance their personal performance
goals.
 Created an environment where students felt supported, encouraged, and safe.